Logrhythm líder en inteligencia de seguridad y analítica, faculta a organizaciones de todo el mundo para detectar y neutralizar amenazas. La protección frente a un actual panorama de amenazas en rápida evolución requiere una amplia y profunda visibilidad de todo el entorno de sistemas. Las amenazas y los riesgos llegan desde numerosos ángulos y las pruebas de su existencia pueden hallarse en las bitácoras y los datos de máquinas ya existentes. Una visibilidad más profunda y esencial se obtiene a través de la monitorización forense específica de los equipos anfitriones y las redes.
Exponga y priorice las amenazas reales con información que le permita actuar
¿Preocupado por que haya amenazas que se estén filtrando a través de las grietas? Si su equipo está enfrentando agotamiento por las alarmas (al tener que filtrar manualmente los falsos positivos), es probable que se estén perdiendo las verdaderas amenazas.No pueden trabajar lo suficientemente rápido para seguir el ritmo de la información a analizar.
El enfoque integral de LogRhythm hacia el análisis de seguridad ayuda a mejorar la precisión y la eficiencia de detección de su equipo para que puedan tomar decisiones más inteligentes más rápido.Conozca más sobre cómo el análisis de seguridad en tiempo real puede ayudarlo a detectar las amenazas surgidas de los usuarios.
Detect and Neutralize Threats Across Your Cloud Infrastructure and Applications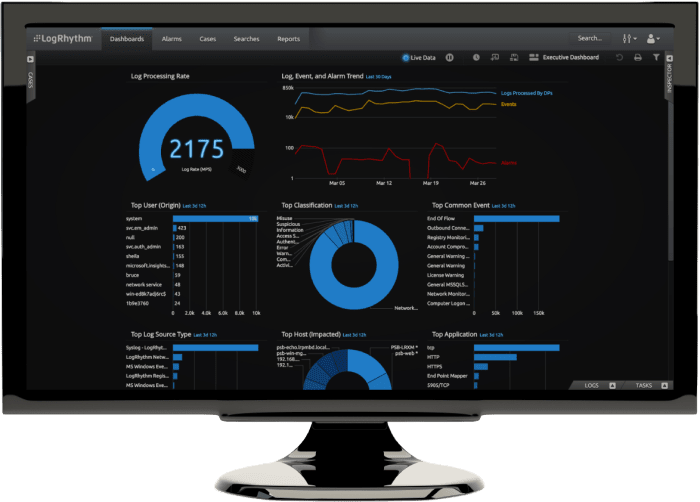 Most businesses are moving information to the cloud for cost efficiency, increased flexibility, and improved accessibility. However, using cloud services may intensify risk and make your corporate data more vulnerable to threat actors.
Real-time monitoring is critical to rapidly detect and neutralize security threats across your cloud infrastructure, distributed IT environment, and cloud applications.
Optimice su Centro de operaciones de seguridad
Security leaders understand that accelerating threat detection and response requires a SOC. But building a SOC that works well for your organization requires a foundation of people, processes and technology that you may not have in place yet.
Whether you're just starting to build a SOC or you are looking to mature an existing one, LogRhythm's Threat Lifecycle Management Platform can help you build an intelligence-driven SOC to efficiently respond to threats, align your SOC platform with your organization, and see a greater ROI on your investment.
Securing Financial Assets
Cybercrime follows a trail of money. The financially motivated hacker aims to breach organizations that not only harbor large sums of cash, but are also home to sensitive data carrying a high price tag on the black market. This makes financial institutions the perfect target. Incentivized by a hefty payout, cybercriminals are increasing attacks that target financial institutions. These attacks can be extremely damaging, or even fatal, to a business. In fact, attacks such as ransomware, have the potential to completely disable operations.
As a financial institution and highly sought-after target, you need to take a proactive approach to cybersecurity. It's essential that you deploy a security solution that is ready to rapidly mitigate cyberthreats and effectively protect your financial assets.
The LogRhythm NextGen SIEM Platform uniquely delivers effective end-to-end Threat Lifecycle Management (TLM) — from forensic data collection and analysis, to neutralization and full recovery. As a result, your team will see more, detect real threats, thoroughly investigate incidents, and respond faster.
Especialistas en: SIEM, Log Management, Security Intelligence, Multi-Dimensional Behavioral Analytics, Compliance Assurance, SIEM, Event Management y Big Data Analytics.